Message from the Principal
I can not believe we are almost to the end of our first nine weeks together! It has been an honor to serve our school community and to spend my days with your children. So many of you were able to attend Watch Me Work night or your caregiver conferences to learn more about your student's experience at Winn Montessori. As always, please reach out with any questions or concerns.
While we will not be giving out or eating candy at school, students are invited to wear their costumes on October 31st. The primary students will do a parade for our all kids! Please ensure costumes are comfortable for wearing all day and refrain from blood and weapons. I'm excited to see everyone dressed up!
Your Principal,
Bridget M. Farr
bridget.farr@austinisd.org
(512) 414-2390 ext. 59454
See upcoming events on the school calendar
Click "subscribe" to add the school calendar to your personal device!
Breakfast with Bridget
This Friday's Breakfast with Ms. Bridget will review our Title I status and the Campus Improvement Plan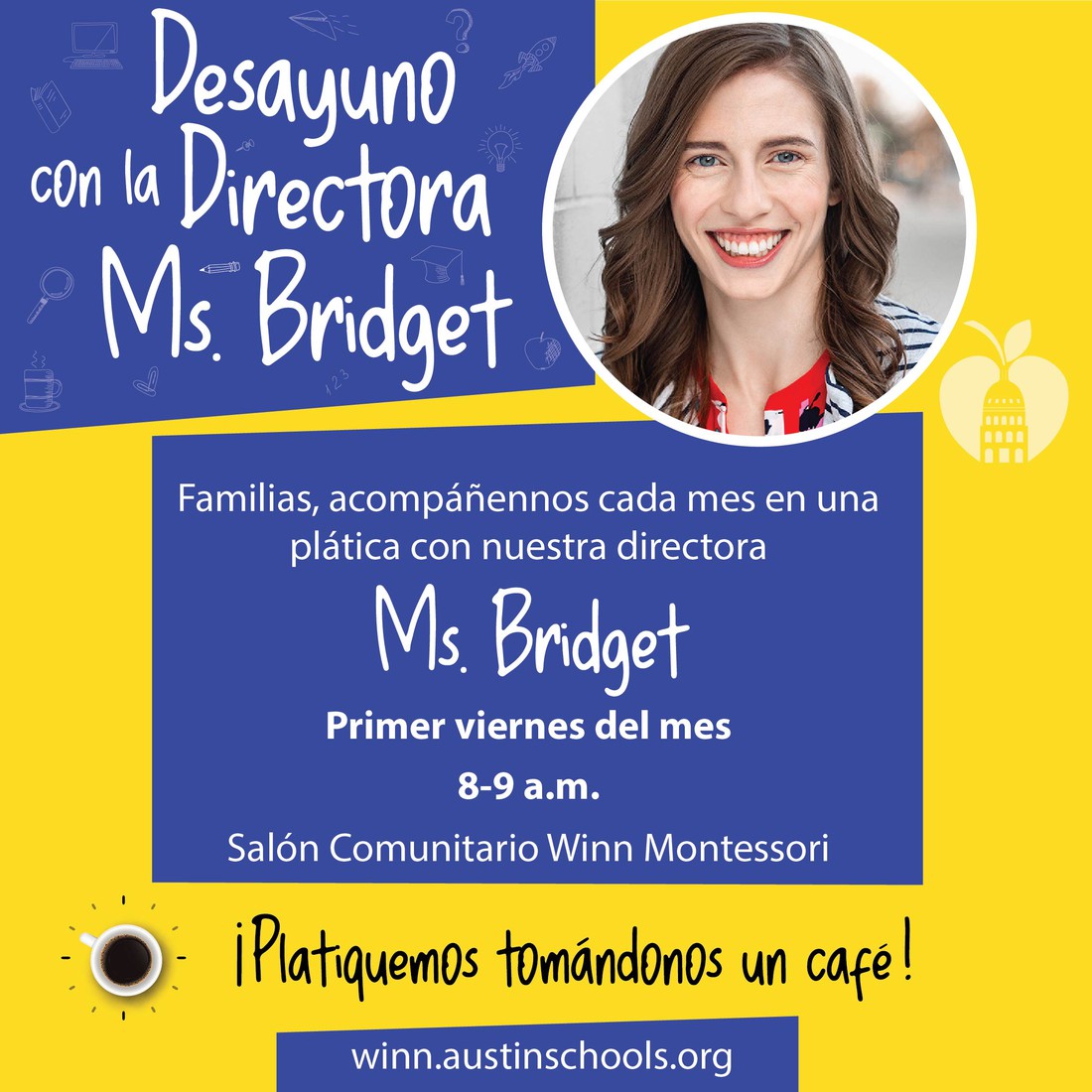 Report cards will be finalized October 13
Just a reminder that we are moving to Standards-based Grading this school year.
More info about Winn's grading rubric
Support Services for Students
This year, we are grateful to have two new programs to help students at Winn Montessori, as well as our standards. Read below to learn more about programs for student support and reach out to the contact with any questions!
Literacy First (Contact: Bridget Farr): Mr. Gabriel and Ms. Danielle provide 1:1 tutoring to students close to being on-grade level for reading. They will start by seeing 10 students before moving to a waitlist. Learn more here: https://www.literacyfirst.org/
Communities in Schools (Contact: Patrick Self): The founding principle of Communities In Schools is to establish one-on-one relationships with individual students in order to support them beyond obstacles to success in school. Mr. Patrick will provide 1:1 support, as well as, small group meetings and fun classes for our students. Learn more here: https://ciscentraltexas.org/on-campus-student-supports/
Counselor (Contact: Julie Meacham): Ms. Julie provides whole group counseling lessons, small group sessions, and short-term 1:1 counseling for students.
Gifted & Talented (Contact: Nayane Olivas): The Montessori curriculum is built to serve students with advanced academics, but we also meet regularly about students in the GT program to ensure we are meeting their needs. https://www.austinisd.org/advanced-academics/gifted
Parent Support (Contact: VACANT): Unfortunately, Ms. Aida's last day as our Parent Support Specialist will be Thursday, October 5th. For immediate needs, please call the front office.
Winn PTA Update
Learn more about the Winn Montessori PTA on our website and come join us at our next event.
Friday, October 13: 5 PM PTA Meeting followed by Movie Night in the Cafeteria