Message from the Principal
What a lovely first month of school! It has been a pleasure getting to know your children. Thank you for your patience and grace as we all learned new routines. I look forward to seeing you at an upcoming Breakfast with Ms. Bridget or our Watch Me Work night on September 20.
We will be holding Caregiver Conferences on Monday, September 25. Your classroom guide will reach out directly to set up a time to discuss your student(s).
As always, please reach out via phone or email to set up a 1:1 meeting if you'd like to meet with me.
Your Principal,
Bridget M. Farr
bridget.farr@austinisd.org
(512) 414-2390 ext. 59454
See upcoming events on our school calendar
Click "subscribe" to add the school calendar to your personal device!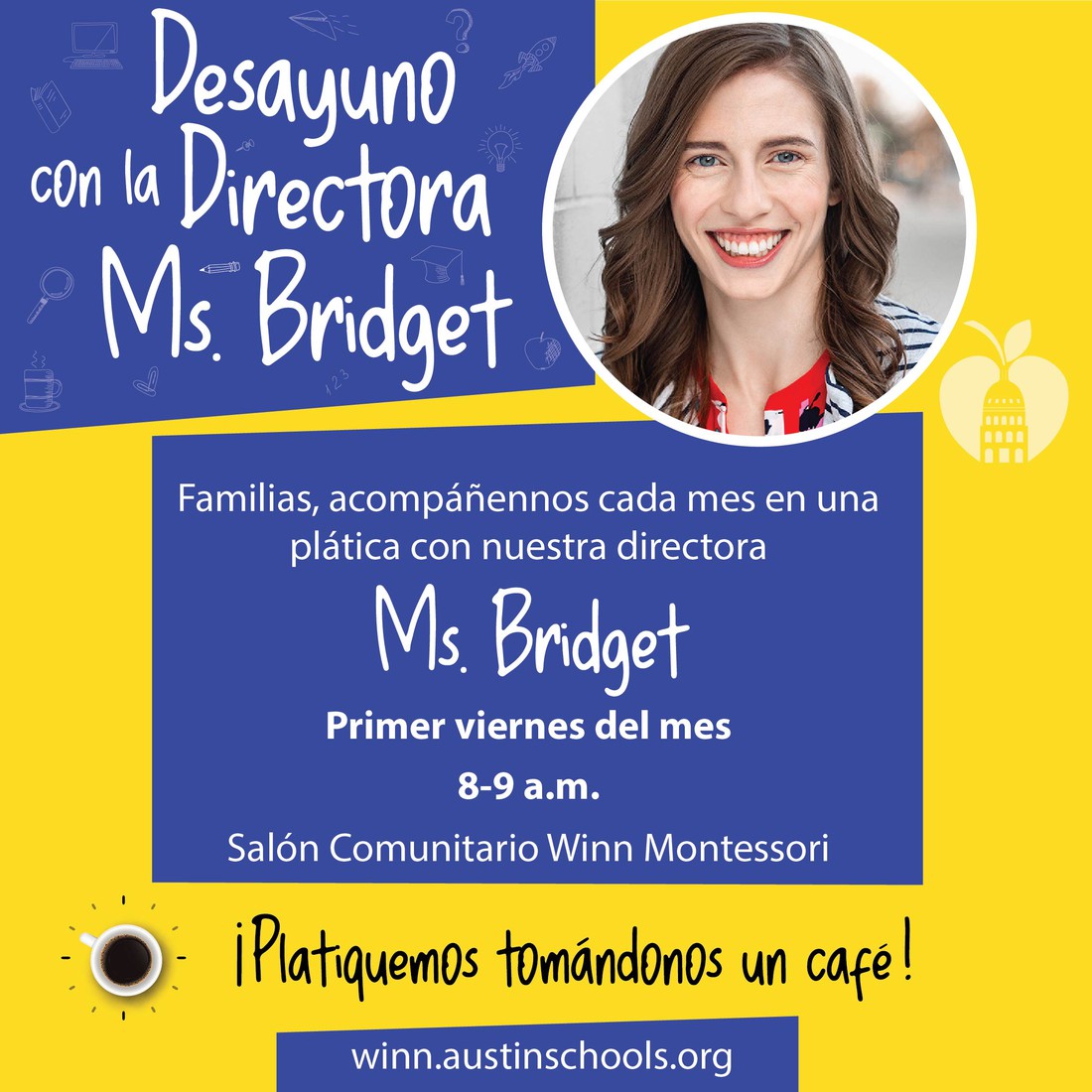 Slides from last Friday's breakfast
Learn more about grading in a Montessori School!
---
Winn Montessori Caregiver Handbook
---
Morning Arrival and Afternoon Dismissal
Arrival
For increased safety, no family members will be allowed in the building during arrival, even on the first day.
Doors open at 7:15 AM. Drop-off for all students is on the Susquehanna side of the building.
Drop off for Primary (PK3-K) and older siblings is in the parking lot near the library. *New procedure for the 23-24 school year*
Drop-off for Elementary (1-5) is at the front entrance of the school.
For everyone's safety, families are not allowed into the building during arrival.
Learning begins at 7:40 with family-style breakfast in the classroom and students are tardy beginning at this time.
Students who arrive after 7:40 will need to check-in at the front office.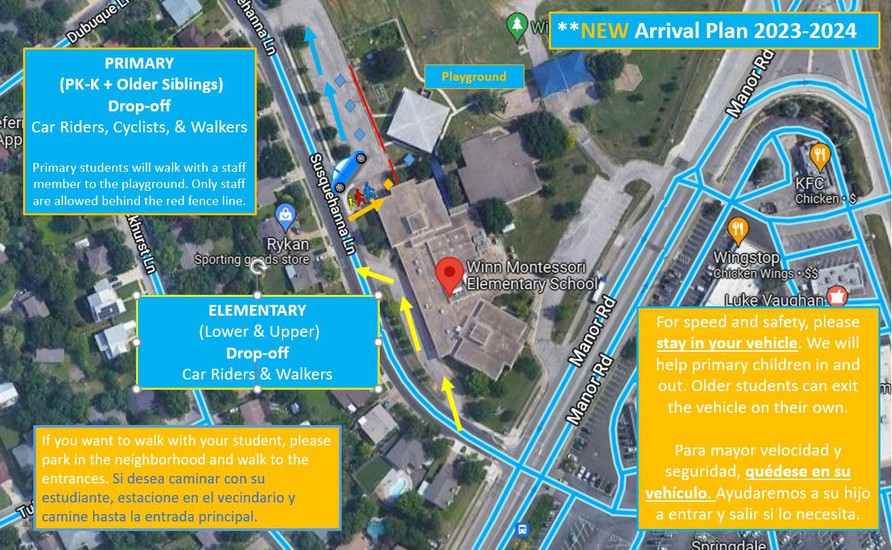 Dismissal
For safety reasons and the severe heat, all students will remain inside the building until their guardian has arrived. Please be sure to have your pick-up sign with you or you will need to go to the front office to collect your child. Safety is our number one priority!
Learning will stop at 3:05 PM and dismissal begins at 3:10 PM.
Pick up for Primary (PK3-K) is on the Manor side of the building. *Same procedure as the 22-23 school year*
Pick-up for Elementary (1-5) is on the Susquehanna side of the building in the parking lot by the library.
Families with students in both groups pick up on the Manor side.
Please do not pick up students between 2:45 and 3:10 PM.
If changes occur to a student's normal going-home routine, please contact the classroom teacher before 2:30 PM on the day the change is to be made. If the classroom teacher is not notified, they will dismiss the student per usual.
Guardians who arrive after 3:25 p.m. will need to pick up their student in the front office.
---
PTA Update
Learn more about the Winn Montessori PTA on their page
Upcoming events:
Tuesday 9/5 5PM-close: Spirit Night at PTerry's where 10% of sales from the night go to the PTA
Saturday 9/9 and Sunday 9/10 8:30-11 AM: Garden work days in the Winn schoolyard
Thursday 9/14 5PM in the Community Room
Saturday 9/30 10AM PTA Playdate at the Winn Playground